In an open and evolving business environment, millions of organizations and companies are keen to gain an increasing market space day after day, and this will not be achieved without regular communication with their target audience, and ensuring that the interests of this audience are met. Therefore, these organizations are in constant challenge to transmit their own messages of values, objectives, visions, products and services through digital and traditional media spaces, and through the optimal use of these spaces in promoting the organization's media campaigns, and before that, the formulation and distinct management of these campaigns, whose business can be developed and grown.
At a time when there are hundreds of thousands of different media, including audio, visual, in addition to reading, and social media is spreading and multiplying among all countries of the world, the implementation and management of media plans has become in need of tight and prior strategies that are formulated so that they are a clear approach with successful results and achieving their goals, which we offer to our clients at Ideas Gallery.
Idea of Media Campaign Management Services from Ideas Gallery
The provision of media campaign management service from Ideas Gallery is based on helping its clients in formulating, preparing, planning, implementing, managing and evaluating integrated media campaigns of all kinds, developing an appropriate communication strategy for the campaign with the target audience in light of many variables, and using appropriate strategies and tools to identify supporters and target groups with high accuracy.
Types of Media Campaigns managed by Ideas Gallery
Press, radio and television campaigns.
E-campaigns.
Digital Marketing Campaigns.
Direct mail campaigns.
Client referral/recommendation campaigns.
Social Influencer Campaigns.
Importance of media campaign management services
Good management of media campaigns helps the organization to achieve its main and subsidiary objectives.
Good management of media campaigns makes them more effective on the target audience.
Management of media campaigns helps correct course, rectify mistakes and adjust strategies to ensure a strong and lasting impact in the long run.
Good Management of media campaigns helps the organization to move from simple objectives to more comprehensive and broader objectives.
Ideas Gallery Methodology in "Management of Media Campaigns"
The services of the media campaigns management at Ideas Gallery are based on advanced scientific and applied systems that are compatible with the conditions of customers and their target audience, therefore helping to achieve its objectives. The work methodology includes:
Defining an accurate and tight framework for the organization:
Marketing audit and analysis to formulate a better study on the macro and micro environments.
Integrating best practices, tools and models to implement an effective campaign system.
Formulating strategies, initiatives and programs to build and maintain competitive advantage in the market.
Applying comprehensive planning and implementing modern strategies to enhance corporate results.
Observance of ethics:
Observing the customs, traditions, laws and social and moral principles of the target audience.
Designing and implementing programs for media campaigns that include confidence and hope in current and future plans and strategy.
Respecting freedom of thought in the use of images or words within the content of media campaigns.
Supporting the values of humanity and freedom, and taking care of the cultural, national or scientific heritage of the target audience.
Creativity and Excellence Support:
Creativity is a characteristic of leading business organizations and a key element in managing their activities efficiently and ensuring continuity and growth.
Providing programs for the formulation, implementation and follow-up of media campaigns from a strategic perspective of corporate creativity.
The concern for stimulating thinking outside the box, and eliminating any technical or administrative obstacles to creativity.
Continuous development of administrative and executive programs, and refusal to quote the prevailing and traditional trends.
Encouraging excellence and withstanding local and global competition.
Highlights of Ideas Gallery services in "Management of Media Campaigns"
Ideas Gallery has various and highly effective sub-services within the media campaign management service so that all of them are based on many integrated scientific approaches, which are directed to achieve the maximum benefit from all the elements of the campaign;  visual, commercial and promotional, and to achieve the goals that the organization seeks through such campaigns, seizing available opportunities in the market and achieving leadership and excellence in its field.
In the following lines, we review the main sub-services that are included within the services of the "media campaign management" and are consistent with the future vision and objectives of the organization and these services include:
Analysis of the nature of Organization:
Forming a clear and comprehensive vision of the organization, and formulating a complete perception of its essence.
Defining the mission and vision of the organization and its target audience.
Defining the goals that the organization seeks by influencing the target audience.
Using the SWOT analysis to identify the strengths, weaknesses, opportunities and challenges of the organization.
Content design and management:
Determining the language used in communicating with the target audience of the brand (the tone and style of speech used in the content, texts and ways of interacting with the audience).
Building brand loyalty through the content used to communicate and interact with the public.
Choosing distinct content that touches the needs of the target audience, and addresses their emotional and psychological aspects, so that the content includes:
Graphics and Infographics Creation: Through this service, the Ideas Gallery team handles content creation of media campaign from photos, movies, live event coverage, multi-purpose animation, illustration and graphic design.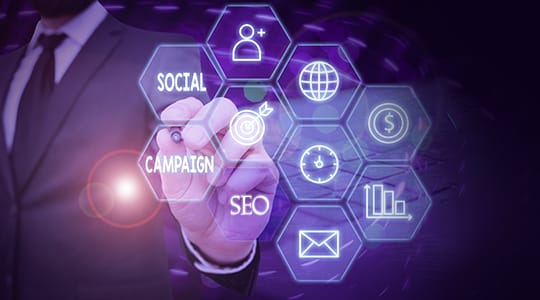 Social Media Channel Content Industry Through this service, we offer you in Ideas Gallery new and high-quality content that attracts the attention of the target audience to its campaign, keeps them informed and constantly, increasing the likelihood of their interaction with its posts.
Advertising Campaign Content: Our team at Ideas Gallery works on creating unique advertising content for our clients, organizing it in all its stages and communicating it in various possible ways to the target audience, therefore providing a distinctive display within a larger strategy for organization.
Marketing content for services and products: This service provides customers from companies and online stores with creating content and marketing descriptions for their various products and services according to effective marketing strategic plans.
Broadcasting and disseminating campaign content through various means, such as: Television, radio, newspapers, social media, website, etc.
The continuous presence of campaign content across social media platforms, and the use of carefully prepared content to enhance the presence of organization, awareness of its objectives and raising its value to the public.
Search Engine Optimization (SEO) Compatibility through:
Determining the most searched keywords in search engines.
Identification, follow-up of the organization's competitors and studying the content of their traditional and electronic media campaigns in a detailed and complete way.
Formulating a distinct campaign content strategy to comply with SEO standards.
Choosing the appropriate means to broadcast the media campaign:
Analyzing the available means and selecting the most effective ones according to the nature of the organization and the content of the campaign.
Determining the desired effects of each method on the target audience.
Formulating a time line for campaign launch and content broadcast.
Media Campaign Monitoring:
Monitoring the workflow of the campaign and ensuring that all its elements are running smoothly.
Ensure that the campaign work progresses before the deadlines and goes according to plan.
Following up on the reactions of the target audience to the campaign content and taking notes on it.
Assessing whether the campaign is going in the direction of achieving its objectives or not.
Making any required modification to the campaign strategy or implementation plans in accordance with the results of evaluation and observation.
Advantages of the Media Campaign Management service from Ideas Gallery
Transparency and Flexibility: Our services are highly transparent and flexible, with the aim of gaining customers' trust by providing elaborate work based on the organization's strengths, and developing weaknesses into points of distinction that can be used to enhance the communication with target audience and achieve its objectives.
Integrated Services: We provide full-service solutions to help our customers grow their businesses and activate their brand marketing efforts. These include media campaign management services, including design, implementation, content creation and broadcasting across various platforms, follow-up and evaluation of campaign performance, and development of its strategy based on evaluation results.
Lower Cost: Our services help clients save money through a comprehensive and accurate management of all elements of the media campaign, which helps to effectively influence the target audience, and ensure the achievement of its various objectives without exaggerating the costs. We guarantee payment for the true cost of the service only without any additional money.
Distinguished team of creators: Ideas Gallery owns a distinguished team of communicators and marketers in the Arab world and around the world, all of whom have extensive experience in the media, technical, marketing and content industries, and a proven track record with many prestigious Arab and foreign bodies, which ensures the addition of commercial value to customers through creative services and attractive output that serve the strategy of the media campaign with all its elements, and the management of this campaign until achieving its goals.
Extensive Previous Experience: Ideas Gallery is a well-established media corporation with long experience in many fields, including: Managing media campaigns. This prestigious entity works to develop the marketing and promotional capabilities of its customers and their brands, with the aim of keeping pace with the successive changes in the financial and business environment, and facing future challenges. To this end, the corporation has a broad precedent of experience extending for a long period of time covering all these fields, built by a distinguished team of experts in technical, media and marketing content.