With the popularity of social networking sites and the emergence of the e-marketing term. Content in all its forms, readable, visual and audio has become the most influential in the target audience. Through it, attraction, persuasion, purchase and brand loyalty are achieved later. Thus, the content industry has become the most urgent matter now in electronic and digital marketing. The industry has developed over time. It has become dependent on modern and contemporary methods that keep pace with the world's technological development and artificial intelligence. And instead of the content industry relying on the readable content of an article or tweet as in the past. New types and controls have emerged for electronic content, especially promotional interactive marketing content. Companies and organizations are now competing – in all their fields – in order to obtain comprehensive and integrated services in the manufacture and management of content of their brand. In order to have the greatest possible impact on the target audience and achieve its profit and non-profit goals.
Idea of content creation and management services from Ideas Gallery
Ideas Gallery's content creation and management service concept is based on translating customers' ideas and goals into a robust content creation and management strategy. Formulation of customized and distinct media content. Provision of exceptional marketing content and publish it on the website and social media pages of customers. Publishing, monitoring and development of content in line with customers' objectives.
Importance of Content Creation and Management Services
Awareness of the customers' brand and its products/services among the target audience.
Providing added value to customers by building trust with the target audience.
Positive influence on the purchasing decisions of the target audience of the brand of customers.
Increased brand spread to customers, higher sales rates, and entry into new markets.
Achieving a good rate of interaction with the target audience and increasing the number of visits to the brand's websites and social platforms for customers.
Websites with regular content have more visits than sites with irregular content.
Content marketing costs about 62% less than external marketing.
Content marketing generates 3 times more leads than external marketing.
Content marketing enhances your email marketing and social media marketing efforts.
Content marketing is less expensive and more effective than traditional types of advertising.
Content marketing has a positive impact on increasing results and enhancing the online marketing presence entirely.
Ideas Gallery Methodology in "Content Creation and Management "
The content creation and management services at Ideas Gallery are based on advanced scientific and applied systems. It adapts to the circumstances of each customer/institution, its brand and target audience, which helps in achieving its goals. The work methodology includes each of the following stages:
Content Marketing Strategy Development:
Formulating a unique strategy for customers.
Analysis of the customer's personality and target audience.
Content Development:
Creating high quality content that captures the interest of customers.
Editing content in a way that is compatible with search engines.
Continuously developing content.
Content Distribution:
Automatic distribution of content on websites and social media.
Providing a range of social media account management services.
Follow up and Improvement:
Continuously content development monitoring.
Identification of low-performing subjects and materials.
Developing low-performing subjects to maintain future results.
Reporting:
Submitting monthly reports to evaluate the performance of content creation and management services.
Including key metrics for evaluation such as website visits. User interaction on social media with content. The number of new customers gained.
Highlights of Ideas Gallery Services in "Content Creation and Management "
Ideas Gallery has various and highly effective sub-services within the content creation and management service. All of them are based on many integrated scientific approaches that are directed to make the most of the customer's content to effectively promote his brand. Achieve the goals he seeks from this content marketing. Take the available opportunities in the market and achieve leadership and excellence in its field.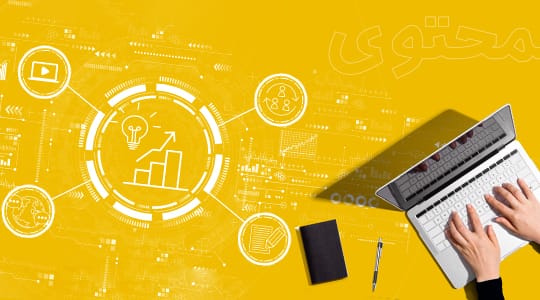 Creating all types of content
Media and marketing content is the way a customer talks to customers through the website and social media pages. It is the mechanism by which the public learns about the products and services of his brand. We at Ideas Gallery provide content creation services of all types. Which aligns with customers' commercial and non-commercial objectives.
This service includes the following:
Creating a profile for the organization/institution that aims to attract investors, clients and other stakeholders who have an interest in what this organization offers. In addition, the introductory content helps in delivering the organization's message and its services and products to its target audience.
Graphics and Infographics Creation:
Content is created by the Ideas Gallery team through this service. Including photo and film production, live event coverage, multi-purpose animation, illustration and graphic design.
Social Media Content Creation:
 Through this service, we offer you, in Ideas Gallery, new and high-quality content that attracts the attention of the target audience to its customers.                       It keeps them up-to-date, which increases the likelihood that they will interact with her posts until they also become regular customers.
Advertising Campaign Content:
Our team at Ideas Gallery works to create unique advertising content for our customers. Organizing it in all its stages and delivering it by all possible means to the target audience. This provides a special offer within a larger strategy for our customers.
Marketing content for services and products:
This service provides customers from companies and online stores with creating content and marketing descriptions for their various products and services according to effective marketing strategic plans.
Search Engine Optimization (SEO) Compatibility
Customers need to reach a large segment of customers via the Internet. In order for this to happen, their websites must be compliant with the rules of SEO or search engine optimization. On top of which is the popular search engine "Google". Such engines are one of the most important source of visits for any website. Thus the best way to reach the public and at little cost.
The improvement of the site's ranking on search engines is achieved through excellent original content that the audience will benefit from. And SEO services from Ideas Gallery make customers' websites eligible and available for search sites. Track website pages and content and launch it towards the target audience. It includes:
Determining the most searched keywords in search engines.
Identifying and following up on customer competitors and studying their electronic content in a detailed and complete manner.
Formulating a distinct content strategy to comply with SEO standards.
Benefits of content creation and management service from Ideas Gallery
Transparency and Flexibility:
Our services are highly transparent and flexible with the aim of gaining customers' trust. By providing elaborate work based on customer strengths and developing weaknesses. As well as points of distinction that can be used in effective content marketing.
We provide full-service solutions to help our customers grow their businesses and activate their content marketing efforts. It includes social media account management services and advertising services to increase visits to customer content.
Our services help customers save their money. Instead of spending your entire budget on content marketing services. We guarantee payment for the true cost of the service only without any additional money.
Distinguished team of creators:
Ideas Gallery owns a distinguished team of online content creators and managers in the Arab world and around the world. All of them have extensive experience in the field, in more than one language, and a track record with many prestigious Arab and foreign bodies. This ensures adding commercial value to customers through creative services and attractive output that serve the content industry and content marketing strategy.
Extensive Previous Experience:
Ideas Gallery is a well-established media corporation with long experience in many fields, including. – Content Creation and Management. This prestigious entity works to develop the marketing and media capabilities of its customers. With the aim of keeping pace with the successive changes in the financial and business environment and facing the challenges of the future. To this end, the Association has a broad experience that extends over a long period of time, covering all these areas. It was built by a distinguished team of elite media and marketing content experts.